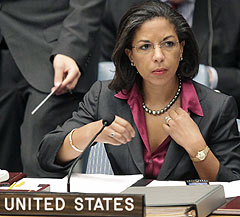 Susan Rice at the UN: Deja Vu All Over Again?
By Carl Bloice
Beaver County Peace Links via BlackCommentator.com
June 20, 2013 - Susan Rice and Colin Powell have more than one thing in common, but if things continue to move as they are now, the most historically significant one may be that they both went to the United Nations with "evidence" that got our country involved in a military conflict in a volatile part of the world,  resulting in massive death and destruction – all for no good reason.
On February 5, 2003, then-Secretary of State General Colin Powell told the United Nations Security Council that Iraq possessed dangerous weapons of mass destruction and the country's then ruler, Saddam Hussein, was hoodwinking U.N. inspectors by hiding them. It was, as Democracy Now! said last week, "a defining moment "in the Bush administration's push to invade Iraq.
On February 6, 2003, Rice, then a senior fellow at the Brookings Institution, told NPR Powell "has proved that Iraq has these weapons and is hiding them, and I don't think many informed people doubted that."
What we know now is that what the then highest-ranking African American official in the Bush Administration said was not true. I recall the day NBA great Charles Barkley was asked what was the question of the day and answered "Where are the weapons of mass destruction?"
Turned out there were none.
It was what the New York Times last week termed, "the fiasco of nonexistent weapons of mass destruction in Iraq"
In the end it didn't matter much. It was the U.S. public and much of the international community that had been hoodwinked. The U.S. invaded Iraq, overthrew Hussein and set in motion a decade-long war that resulted on 0ver 4,440 U.S. troops deaths, over 32,000 seriously. Over 235 are reported to have taken their own lives while deployed. More than 100,000 Iraqi civilians lost their lives and 1.6. million were displaced from their homes. All at the cost of over $I trillion.
Last week, Powell's former aide, Col. Lawrence Wilkerson, who prepared the U.N. speech, told Democracy Now!, "I don't believe the hype about that presentation having been the ultimate presentation... that led us to war with Iraq…George W. Bush, Dick Cheney and others had decided to go to war with Iraq long before Colin Powell gave that presentation."
"Frankly, we were all wrong," said Wilkerson. "Was the intelligence politicized in addition to being wrong at its roots? Absolutely."
When Powell gave his UN presentation there were already serious questions raised, even in the mainstream mass media, about the sources of the evidence for weapons of mass destruction in Iraq, including shadowy figures in the world of international intrigue, like Rafid Ahmed Alwan al-Janabi, aka "Curveball," who later admitted he lied.