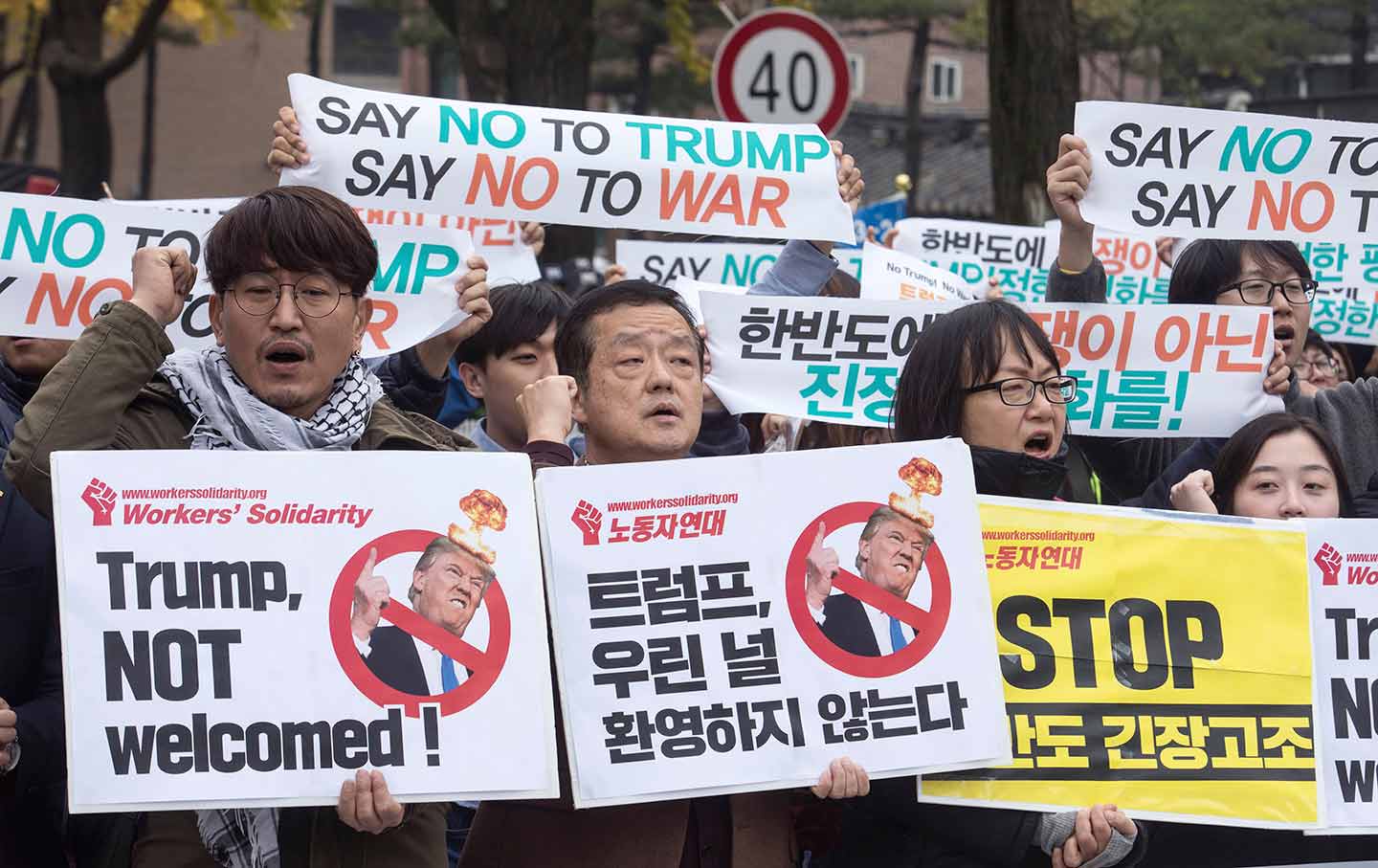 By Michael T. Klare
TomDispatch
Nov 19, 2017 - Maybe you thought America's nuclear arsenal, with its thousands of city-busting, potentially civilization-destroying thermonuclear warheads, was plenty big enough to deter any imaginable adversary from attacking the U.S. with nukes of their own. Well, it turns out you were wrong.
The Pentagon has been fretting that the arsenal is insufficiently intimidating.  After all -- so the argument goes -- it's filled with old (possibly unreliable) weapons of such catastrophically destructive power that maybe, just maybe, even President Trump might be reluctant to use them if an enemy employed smaller, less catastrophic nukes on some future battlefield.  Accordingly, U.S. war planners and weapons manufacturers have set out to make that arsenal more "usable" in order to give the president additional nuclear "options" on any future battlefield.  (If you're not already feeling a little tingle of anxiety at this point, you should be.)  While it's claimed that this will make such assaults less likely, it's all too easy to imagine how such new armaments and launch plans could actually increase the risk of an early resort to nuclear weaponry in a moment of conflict, followed by calamitous escalation.
That President Trump would be all-in on making the American nuclear arsenal more usable should come as no surprise, given his obvious infatuation [1] with displays of overwhelming military strength.  (He was thrilled [2] when, last April, one of his generals ordered, for the first time, the most powerful nonnuclear weapon the U.S. possesses dropped [3] in Afghanistan.)  Under existing nuclear doctrine, as imagined by the Obama administration back in 2010, this country was to use nuclear weapons [4] only "in extreme circumstances" to defend the vital interests of the country or of its allies.  Prohibited was the possibility of using them as a political instrument to bludgeon weaker countries into line.  However, for Donald Trump, a man who has already threatened [5] to unleash on North Korea "fire and fury like the world has never seen," such an approach is proving far too restrictive. He and his advisers, it seems, want nukes that can be employed at any potential level of great-power conflict or brandished as the apocalyptic equivalent of a giant club to intimidate lesser rivals.
Making the U.S. arsenal more usable requires two kinds of changes in nuclear policy: altering existing doctrine to eliminate conceptional restraints on how such weapons may be deployed in wartime and authorizing the development and production of new generations of nuclear munitions capable, among other things, of tactical battlefield strikes.  All of this is expected to be incorporated into the administration's first nuclear posture review (NPR), to be released by the end of this year or early in 2018.
Its exact contents won't be known until then -- and even then, the American public will only gain access to the most limited version of a largely classified document.  Still, some of the NPR's features are already obvious from comments made by the president and his top generals.  And one thing is clear: restraints on the use of such weaponry in the face of a possible weapon of mass destruction of any sort, no matter its level of destructiveness, will be eliminated and the planet's most powerful nuclear arsenal will be made ever more so. 
Altering the Nuclear Mindset
The strategic guidance provided by the administration's new NPR is likely to have far-reaching consequences.  As John Wolfsthal, former National Security Council director for arms control and nonproliferation, put it [6] in a recent issue of Arms Control Today, the document will affect "how the United States, its president, and its nuclear capabilities are seen by allies and adversaries alike.  More importantly, the review establishes a guide for decisions that underpin the management, maintenance, and modernization of the nuclear arsenal and influences how Congress views and funds the nuclear forces."
With this in mind, consider the guidance [7] provided by that Obama-era nuclear posture review.  Released at a moment when the White House was eager to restore America's global prestige in the wake of George W. Bush's widely condemned invasion of Iraq and just six months after the president had won [8] the Nobel Prize for his stated determination to abolish such weaponry, it made nonproliferation the top priority.  In the process, it downplayed the utility of nuclear weapons under just about any circumstances on just about any imaginable battlefield.  Its principal objective, it claimed, was to reduce "the role of U.S. nuclear weapons in U.S. national security."