Latest Polls: 63% of Americans
Oppose War in Afghanistan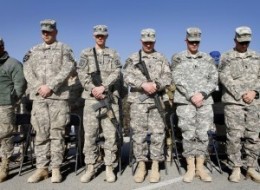 By Amanda Terkel
Beaver County Peace Links via Huffington Post
BUFFALO, N.Y. -- Opposition to the war in Afghanistan is at an all-time high, with 63 percent of the public now opposed to U.S. involvement there, according to a new CNN/Opinion Research Corporation survey. Just 35 percent of survey respondents say they still support U.S. involvement.
The increase in opposition to U.S. involvement comes as pessimism about how the war is going is rising. According to a poll done Dec. 17-19, 56 percent of the public believes that "things are going badly for the U.S. in Afghanistan."
"The war has not always been unpopular -- back in March, when a majority thought that the war was going well, the country was evenly divided. But by September, the number who said that things were going well for the U.S. in Afghanistan had dropped to 44 percent, and opposition to the war had grown to 58 percent," said CNN Polling Director Keating Holland. "Today, with Americans remaining pessimistic about the situation in Afghanistan, they also remain opposed to the war."